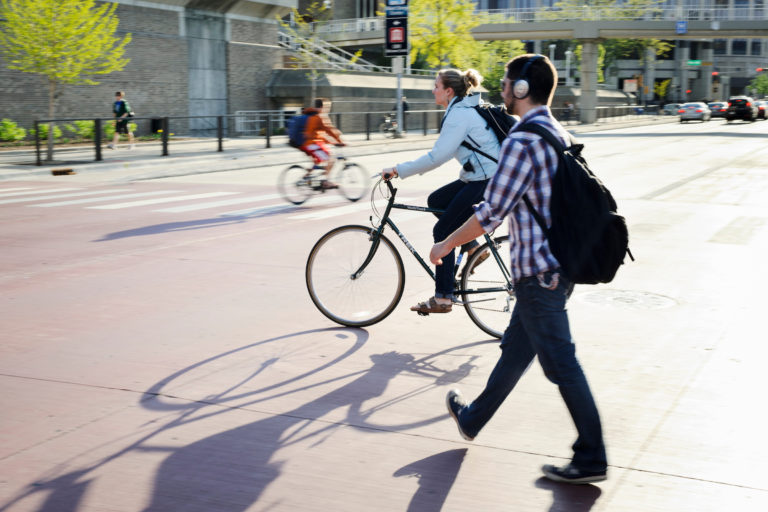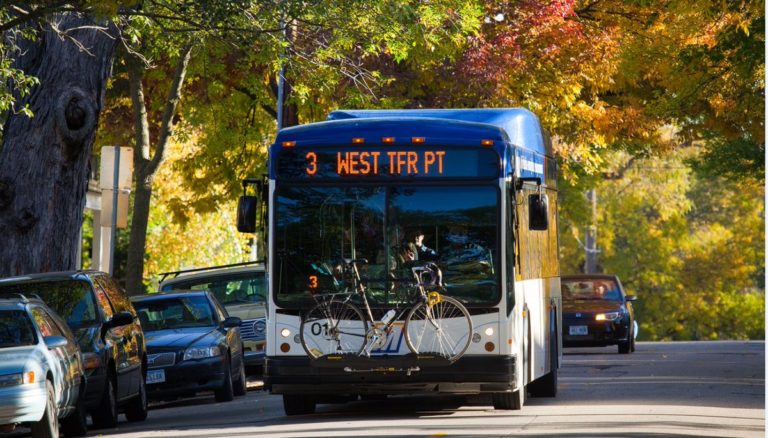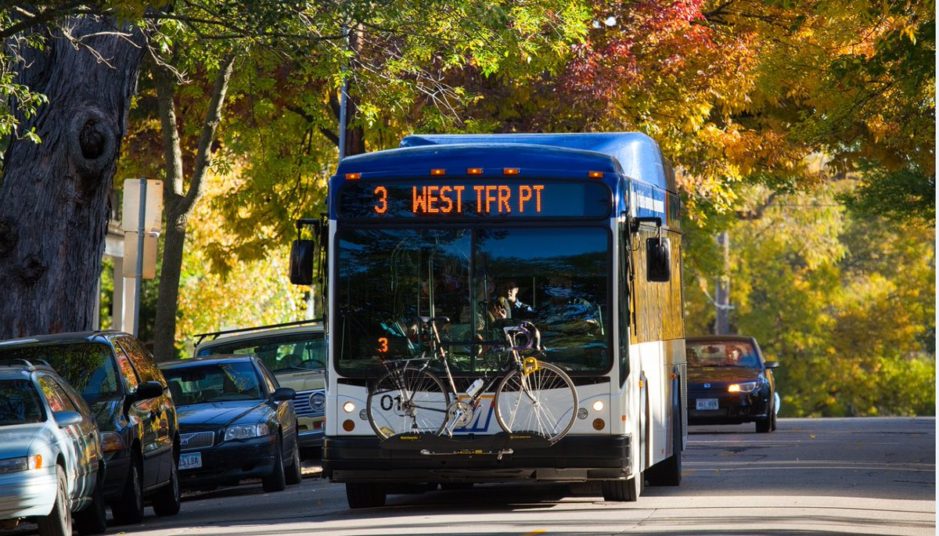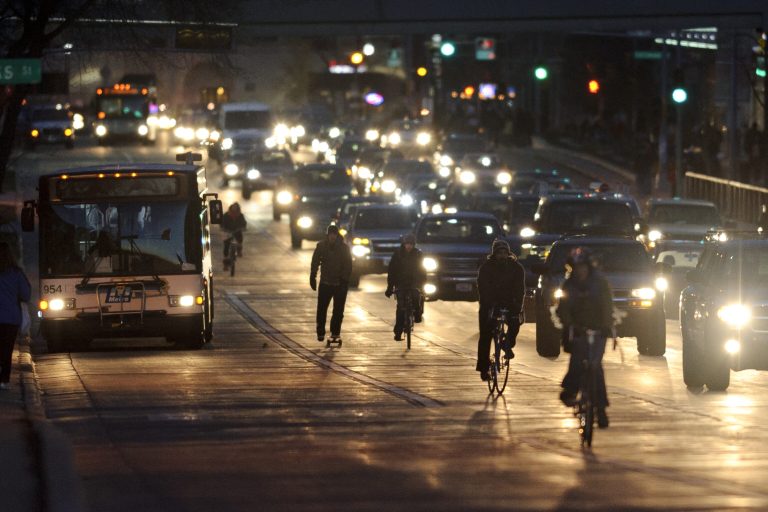 Welcome and congratulations on your employment!
Parking on the UW-Madison campus and UW Hospital is limited. Parking permits are available, but we also encourage and support employees who can choose an active and/or multimodal commute. Transportation Services operates a Commuter Solutions program with custom route planning, Flex pay-per-use parking, Emergency Ride Home vouchers, and discounts on bikesharing and carsharing.
Thousands of employees also ride Madison Metro Transit to campus. UW, UW Health, and UW affiliated employees can purchase a subsidized employee bus pass from Transportation Services. See the employee bus pass page for full details and eligibility requirements.
Did you know Madison is one of the five best cities for bicycling in the nation? UW-Madison has been recognized as a Platinum-level Bike Friendly University. Commuting by bike is a simple way to cut down on campus congestion, save money, and help preserve the environment. With more bicycle parking on campus than automobile parking (nearly 16,000 bike parking stalls!), thousands of students, staff, and faculty commute by bicycle to UW–Madison.
See below for a step-by-step guide on the parking permit process .
How parking works at UW
Check out the "related links" section above for your parking and transportation options.
How parking works
If you plan to drive to work, please keep in mind parking on campus is limited. You will need to purchase a permit to park on the UW-Madison and UW Hospital campuses.
The primary permit types are annual base lot (daily parking), Flex (pay-per-use), park and ride, carpool, and afternoon/night permits. Visit the permit types page for information on each permit.
Applications are required for annual base lot, Flex, reduced cost, carpool, and park and ride parking permits.
Parking permit offers are based on availability and are not guaranteed. Offers are made about every two weeks.
Afternoon, night, motorcycle, and moped permits can be purchased directly online. (You need a NetID or UW Health log-on to make purchases.)
Recommended parking options for second and third shift employees
Afternoon and Night permits are lower-cost permits which allow you to park in select campus lots or garages in the afternoon, evening, and night. Afternoon and Night permits do not require an application! Just use your NetID or UW Health credentials to purchase a permit in eBusiness.
You may park without a UW parking permit in unsigned (unreserved) permit stalls from 4:30 p.m. – 7 a.m. and all day Saturday & Sunday in Lots 4, 19, 26, 34, 37, 39, 40, 41, 45, 54, 56, 58, 59, 60, 61, 64, 82, and 94. These lots may sometimes be reserved for special events. See the list of parking lots and locations.
For more second and third shift commute options, please download the Second and Third Shift Commute Options brochure (PDF).
Need help figuring out your transportation options? Commuter Solutions is here to help! Fill out the custom route planning request form to receive transportation info customized to you.
Before applying
You need a NetID or UW Health username and password to submit a parking application or make any purchases. (More NetID info is on the DoIT NetID webpage. Need help with your UW Health log-on? Contact the UW Health Help Desk at 608-265-7777.)
In order to be able to apply for parking, you need to be entered into the Permit Application System (PAS). Only your Unit Transportation Coordinator (UTC) can enter you into PAS. Therefore, you must contact UTC. Your UTC does not apply for your parking—you are responsible for applying once your UTC has confirmed your entry into PAS.
UW and UW affiliate employees: Find your UTC
UW graduate and professional students: Graduate and professional students with UW or UW affiliate employment may qualify to apply for parking as an employee depending on their department/unit; contact your UTC to check. Students who do not qualify can apply through the student parking process or purchase other permit options where an application is not required (see options on the permit types and information page).
Health Sciences employees (School of Medicine and Public Health, School of Nursing, School of Pharmacy, State Lab of Hygiene, University Health Services, UW Hospital and Clinics, UW Medical Foundation): Complete this Request for Health Sciences Parking Application form. Once completed, the Health Sciences UTC will reach out to you with more information. Once you hear from the Health Sciences UTC team, submit your application in the permit application system (PAS)–see next section for details.
Reminder: Afternoon, night, and moped permits; bus passes; bicycle cage access and bicycle locker keys do not require UTC clearance, as they are available for purchase directly through a separate Transportation Services online purchasing portal (eBusiness).
Take a look at the campus parking maps to see what lots are closest to your work location. Write down a list of four potential lots nearby—you are able to apply for up to four lots.
Applying
You can apply for annual parking once your UTC has entered your information. Apply by logging into PAS and completing the online parking application. Detailed directions on how to apply are on the permit types and information page.
Application Info Permit purchases
UW Health Sciences employees: The Health Sciences UTC will reach out to you after you have completed the application request form described in the "Before applying" section.
You can then follow the application instructions described above (i.e. log into PAS and submit an application). Visit the Health Sciences Parking website for more information tailored to your unit and a list of frequently asked questions. The Health Sciences Unit Transportation Coordinator (UTC) is available at (608) 263-7943 or healthsciencesparking@mailplus.wisc.edu.
If you are interested in an annual parking permit (base lot, Flex, park and ride), we suggest making a temporary commuting plan until your secure a parking permit. Parking permit offers are based on availability and are not guaranteed. Offers are made about every two weeks.
Temporary transportation options include:
Permit offers are sent by email approximately every two weeks. Not every applicant receives an offer in a given assignment period. You will only be contacted if/when an offer can be made to you. You will remain on the waitlist until you receive an emailed offer.
If/when you receive an offer, accept and purchase it on the eBusiness purchasing portal by the noted deadline.
Detailed application, purchasing, and pick-up information can be found on the permit types and permit information page.