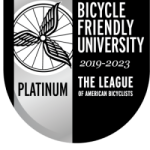 Madison is one of the five best cities for bicycling in the nation, and UW-Madison is a Platinum-level Bike Friendly University! Bike commuting is a simple way to avoid traffic, save money, and help preserve the environment. With more bicycle parking on campus than car parking, thousands of students and employees commute to UW–Madison by bike.
Campus bike resources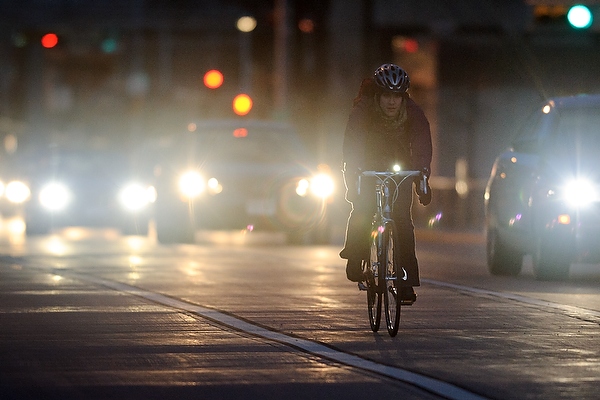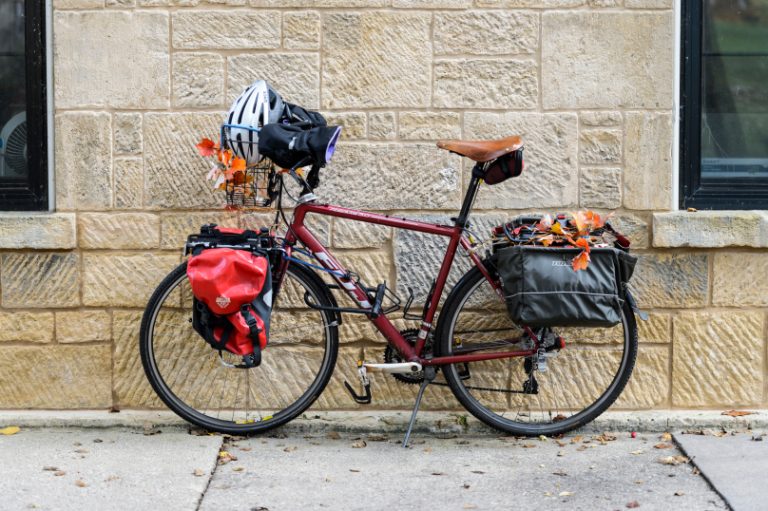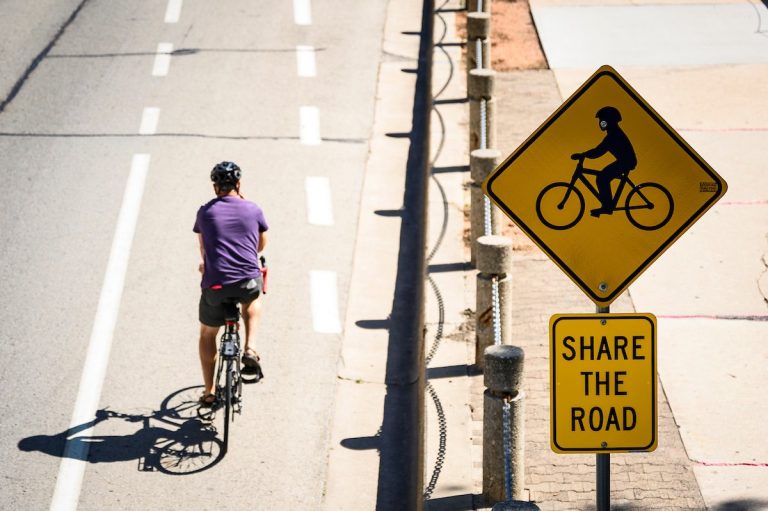 Bike Parking Options and Rules
Bike Parking Rules
Only park in designated bicycle racks.
Illegally parked bikes obstruct walkways and handrails, which presents serious hazards for people who use wheelchairs, canes, walkers, or who have other mobility or visual difficulties. Please don't park your bike in the line of travel to stairs, ramps, doorways, and automatic door-buttons.
Bikes locked to trees can cause serious damage to or even kill a tree. Please keep campus beautiful by not locking your bike to trees/shrubs.
Illegally parked bikes are subject to impoundment. Bike racks (except those at residence halls) are not intended as long-term storage areas.
Full bicycle parking restrictions are outlined in the bicycle parking policy.
If you are consistently having problems finding a parking spot, please use the bike suggestion form to let us know.
Bike Laws and Safety
Madison and Wisconsin laws recognize bicycles as vehicles, granting cyclists the same rights as other drivers on the road. However, along with these rights comes the responsibility to follow all traffic laws, just as you would in a motor vehicle. For specific information on bicycle laws, or any other law enforcement issue, please contact the UW Police Department for a copy of the brochure "What you need to know to ride safe".
UW Police Department
1429 Monroe Street
Madison WI 53711
608-262-2957
www.uwpd.wisc.edu
Wisconsin law requires a white front light and a red rear reflector on bikes to increase nighttime visibility.
Need to buy bike lights or a helmet? UW Transportation Services and University Health Services (UHS) teamed up with some local bicycle shops to offer discounted bike lights and helmets. These bike safety coupons can be picked up at a Transportation Services office or downloaded (Bike safety coupon – PDF).
In January 2021 the City of Madison repealed its long-standing mandatory bicycle registration requirement. The City is no longer accepting new bicycle registrations. Registration with a national bicycle registration database is still recommended, but voluntary.
For information on how to voluntarily register your bicycle with a national bicycle registration database, visit the City of Madison bicycle registration page.
For questions about bike registration, call the City of Madison's bicycle program office at (608) 266-4474 or the UW Bicycle and Pedestrian Coordinator at (608) 263-2969.
Benefits of registering your bicycle
Bicycle Identification
If your bike is stolen, its serial number is needed to aid police in its recovery. When a bike is registered with the Madison Police Department, the serial number can be cross-referenced with the bike owner's name, and acts as an independent proof of ownership. Recovered bicycles that are not registered have less chance of being returned to their rightful owners, since proof of ownership is often more difficult to obtain.
Theft Deterrence
Thieves may be less likely to steal a bike with a registration sticker since its owner can easily be identified. Stolen registered bicycles are posted on both statewide and nationwide crime computers.
Communicate with other road users. Even expert bicyclists need to be prepared for motorists, pedestrians, and other cyclists behaving unpredictably.
Be visible. Wear bright colors during the day. Use good lights and reflectors at night. Wisconsin law requires at least a white front light and a red rear reflector. Make sure that other drivers can see you. Discount coupons for bike lights are available at all Transportation Services offices and for download: Bike safety coupon – PDF.
Communicate with other drivers. Make eye contact with them to be sure you have been seen. Signal turns and lane changes.
Be aware of hazards. Watch ahead for surface hazards like broken glass, sand and potholes. Weather and light conditions create visual hazards, too. Watch for other traffic, including pedestrians, at intersections and driveways. Adapt your riding style as needed to minimize these and other potential hazards.
Obey all traffic signs and signals. Obeying the law is your first defense against being involved in a crash, and is the best way to gain respect from other road users. Bicyclists can be ticketed for traffic violations.
Always ride with traffic. Besides being illegal, riding against traffic in the roadway makes you unpredictable, especially to drivers turning at intersections, exiting driveways, or leaving parking spaces.
Ride at least three feet from parked cars to avoid being hit by a suddenly opened car door. A motorist passing a bicyclist is also required to give a bicycle three feet of clearance when passing.
Cross railroad tracks at an angle to avoid catching your wheel and falling.
Ride defensively. Be aware of what is going on all around you, and watch out for other drivers' mistakes. Some common situations to watch for include:

a motorist coming toward you who turns left in front of you
a motorist passing you and then turning right in front of you
a motorist pulling out from a stop sign, driveway or parking space without yielding to you

Wear a helmet. Head injuries cause 75% of bicyclist deaths. Protect yourself from the unexpected by wearing your helmet whenever you ride. Discount coupons for bike helmets are available at all Transportation Services offices and for download: Bike safety coupon – PDF.
Bike impoundment
Bicycles are primarily impounded when they're identified as abandoned—left in a bicycle parking area for more than three days (72 hours) without moving. Bike parking at University Housing facilities is an exception. Please note: the Elm Drive bike shelter is not part of a University Housing facility.
When possible, three days' notice is given before removing bikes. Bicycles may need to be removed without notice if:
Pedestrian access is impeded (especially at handrails at steps or wheelchair ramps)
Emergency or construction needs arise
Bike recovery
If you think your bike has been impounded, contact the Bicycle/Pedestrian Coordinator at (608) 263-2969 or charles.strawser@wisc.edu. Please have information pertaining to the date and location your bike was last seen and a physical description of the bike.
If your bicycle was impounded from a location in the City of Madison not on the UW Campus (State Street Mall and some locations on University, Park, and Lake Streets), contact the City of Madison's Bicycle Recovery Program.
Bike disposal
Impounded bicycles unclaimed after 60 days are delivered to UW SWAP, where they are then made available for sale.
If you are moving and don't want to take your bike with you, don't abandon it! Donate your unwanted bike to a local non-profit program instead, such as:
Abandoned bicycle report form
To report what appears to be an abandoned bicycle, please use the feedback form below. Include as much detail as possible regarding location and bicycle description. Bikes are impounded several times per year. Your complaint will be kept until the next impounding session, at which time the bike will be tagged.