Madison Metro Paratransit
Madison Metro paratransit is a shared-ride service that uses a variety of companies and vehicles to respond to individual ride requests.
Employee and student bus passes can be used for regular and paratransit Metro service.
This Americans with Disabilities Act (ADA) paratransit service is for individuals with disabilities who cannot use Metro's accessible fixed-route bus service. The paratransit service area, hours, and days of service closely match fixed-route schedules. Learn more at Madison Metro's website:
Learn more about options for accessible campus access.
Accessible Circulator Shuttle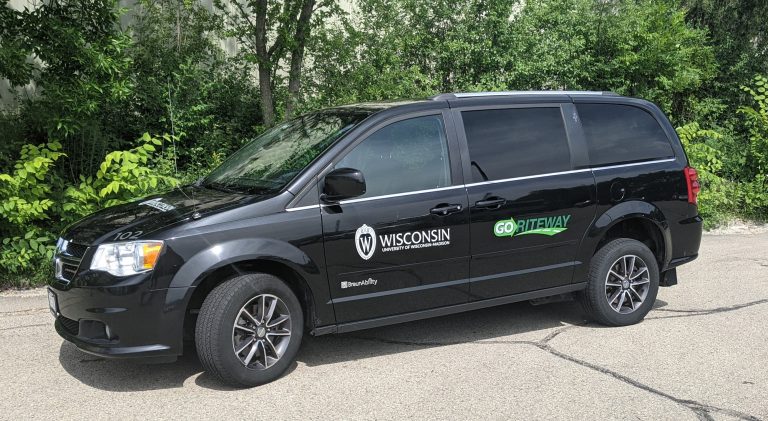 The Accessible Circulator Shuttle provides on-call and pre-scheduled service between campus buildings for UW employees, students, and visitors with mobility disabilities, whether temporary or permanent. Rides are available on a pre-scheduled and on-call basis. There is no fixed shuttle route or an hourly schedule.
For pickup, call (608) 890-1352 or email uwshuttle@goriteway.com
For details go to the Accessible Circulator Shuttle page.
UW Health Shuttle
UWHC provides shuttle service to UW Hospital (Clinical Science Center) from parking lots in the west campus area. Learn more at the SMPH intranet site:
Monona Express
Monona Express is a contracted commuter service which makes four loops each morning and afternoon to take riders to downtown Madison, UW Campus, and UW, VA, Meriter, and St. Mary's Hospitals. Learn more at the City of Monona website:
Campus bus and accessible transportation study
In 2018 and 2013, transportation consultants completed studies of the UW-Madison on-campus accessible transportation and campus bus services.
Transportation Services will reference the recommendations and may use for future implementation, as appropriate.