Park and rides are a multi-modal, low-cost alternative to parking on campus, and are an excellent way to reduce traffic and single-occupancy vehicles on the isthmus. Park your vehicle at a designated park and ride lot and take a shuttle, Metro Transit bus, carpool, or bike the rest of the way to campus.
Plan your park and ride route
Contact Commuter Solutions to learn how park and rides can work for you and get a custom route plan.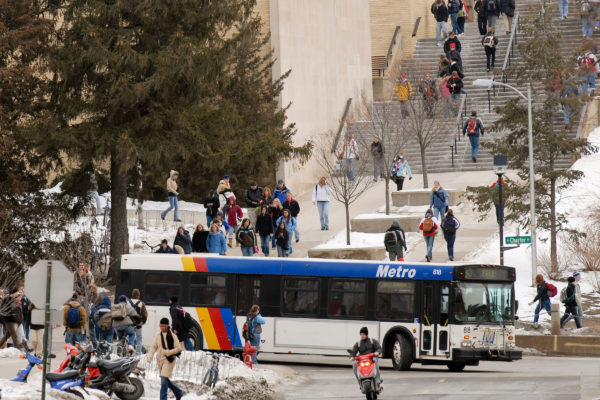 UW park and ride permits provide a low-cost parking option for employees to park off campus and use alternative forms of transportation to campus. One park and ride location is currently available:
Lot 202 is serviced by a park and ride shuttle that drops off at designated stops around campus. A UW park and ride permit is required to use the shuttle.
Find permit information and how to apply on the permit types and information page. Park and ride permit rules and additional details can be found in the park and ride policy.
Question or comments about UW park and ride shuttle service should be sent to tdm@fpm.wisc.edu and can also be directed to the service provider at uwshuttlecomments@goriteway.com or (262) 221-2302.
Park for free and ride Madison Metro to your destination. Complimentary bicycle parking is also available. Check the Madison Metro website for complete and up-to-date park and ride lot details, route information, and service schedules.
Madison Metro employee bus passes
The above park-and-rides are served by Madison Metro bus routes.
UW and UW affiliate employees may be eligible for a discounted employee bus pass. See the campus and city bus routes page for additional bus information.
The Department of Transportation (DOT) manages the following locations, which provide free parking. Madison Metro does not serve these lots, but they make good carpool meeting spots or bike hubs. For more details visit the DOT's Park and Ride page.
Locations