N. Mills Street between University Avenue and W. Johnson Street will soon close to two-way through traffic for approximately three weeks. The closure is part of utility work for the Chemistry Building expansion project. Update 11/7/18: The closure date is set for Monday, November 12.
Vehicle access will be available to Conklin Place from University Avenue. As Charter Street is also closed between University Avenue and W. Johnson Street, motorists should detour using N. Orchard Street, N. Park Street, N. Randall Avenue, or another parallel street.
The Metro Transit bus stops along this section of N. Mills Street are closed during the project. Routes 4, 13, 27 (A.M.), and 44 (A.M.) will be affected. Metro's website has detailed detour information.
To keep the construction area clear, starting November 5 the western crosswalk of University Avenue at N. Mills Street will be closed. (A similar closure is happening at the western University Avenue crosswalk at N. Charter Street.) The east side N. Mills Street sidewalk will be open, but the west sidewalk will be closed. Access to the Chemistry Building at the building's northeast corner is closed, but open on the south.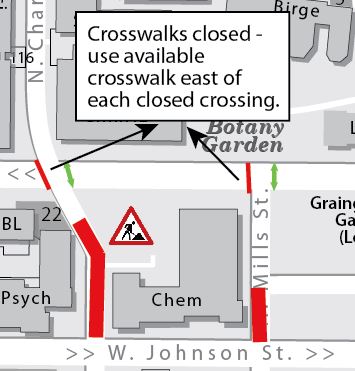 A map of all construction projects and detours can be found on the campus parking maps page. Project dates may change due to weather conditions or other factors. Additional project updates will be posted here as they become available.