Updated 7/6/18
Starting July 5, much of the eastern portion of Lot 40 is closing due to construction on Babcock Hall. It will remain closed for the rest of the 2017-18 parking year and the two following parking years. A small section of stalls will be returned to our inventory in spring 2019, before the project is finished.
Starting Monday, July 9, the temporary driveway to the west of the Stock Pavilion (between Lot 39 and the Stock Pavilion) will open. The "Farm Place" entrance/exit will close. The temporary drive will be the only way to access this area of the lot.
To access the eastern section of the lot, drivers must access Babcock Drive from (westbound) University Avenue. Traffic will only be one-way only on Babcock Drive up to Linden Drive. Eventually a traffic pattern will be established to allow two-way traffic along Babcock in order to access this parking area—information will be shared when a start date for this access is available.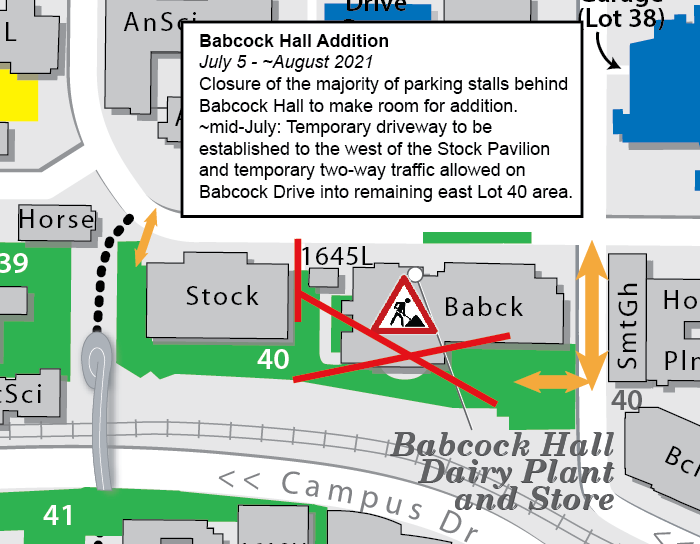 Lot 40 permit holders unable to locate an available stall in the remaining areas of the lot may relocate to Lot 36 (Observatory Drive Ramp). Please try to check the stalls in both Lot 40 areas before relocating—there may be open stalls in the other area. Motorcycle parking will not be affected by this construction, but will need to use the correct exit/entry drive.
Additional updates will be provided as they become available.
A map of all construction projects and detours can be found on the campus parking maps page.