Updated 8/24/18
PROJECT CURRENTLY ON HOLD DUE TO RAIN EVENTS AND FLOODING POTENTIAL.
University Bay Drive near Lot 60/76 will reopen starting August 25 until approximately August 31. This will ensure access to Lot 60/76 is maintained in the event of flooding at the intersection of Marsh and Willow Drives. Routes 80 and 84 will resume their regular routes during this time. Construction will resume after the potential of flooding has subsided.
***
A project to repave part of University Bay Drive will last from August 7 – 29, barring weather delays. The section of road from Marsh Drive to just past the north entrance to Lot 76 will be closed in two different phases:
Part 1: Lot 60 accessible via the east entrance/exit. Lot 76 accessible only via south entrance/exit.
Part 2: Lot 60 will be accessible via the east and northwest entrance/exit.  Lot 76 permit holders will travel around Lot 60 to access the north entrance/exit.
Each part is expected to take about one week to complete. One entrance/exit to each lot will be maintained at all times. Sidewalks will be open.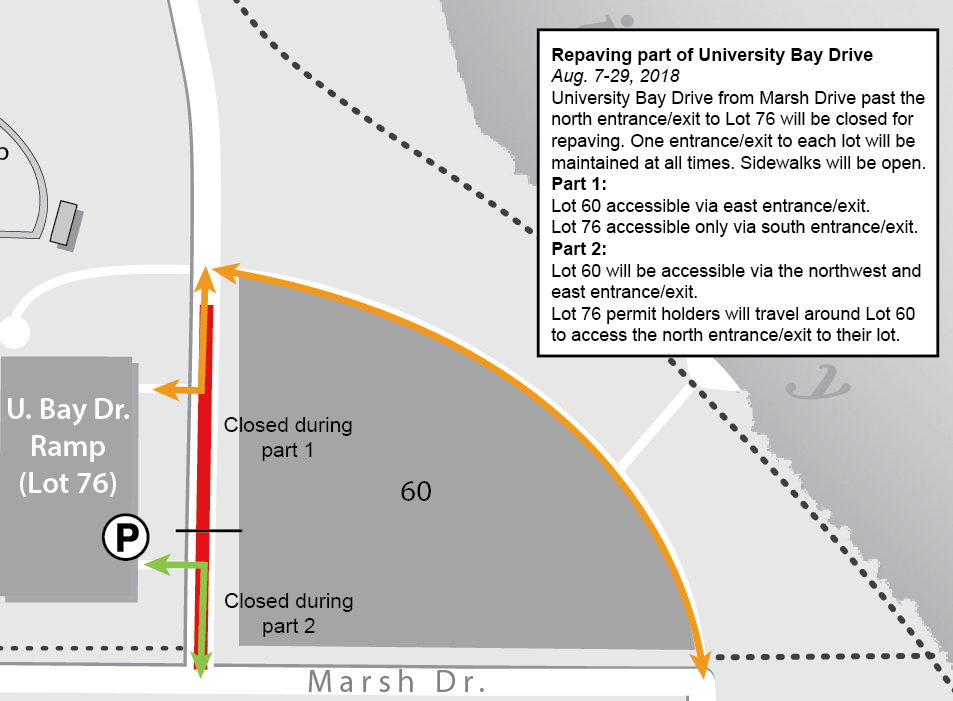 Please drive carefully to protect those at work and pedestrian traffic.
A map of all construction projects and detours can be found on the campus parking maps page.