The City of Madison has announced upcoming traffic lane and street closure information related to the UW Chemistry Building addition project and Charter Street stream utility project. Full details are available on the City of Madison website. Below is a summary of the updates construction projects happening on and around N. Charter Street and N. Mills Street.
University Avenue
Starting Monday, Dec. 3, the city will implement off-peak lane closures on the section of University Avenue between N. Mills Street and N. Charter Street. These closures will occur between 9 a.m. and 3 p.m.
Traffic lane markings will be reconfigured, shifting the current pedestrian and contraflow bike lanes into a lane on University Avenue. Three through traffic lanes will remain, with a combined bus/bike lane near the north curb. The westbound bus stop University & N. Mills (#0234) closes Dec. 4. Board at N. Park Street (#0100) or N. Orchard (#0178).
The lane shifts are in place from N. Brooks Street to N. Charter Street. Traffic lane shifts and the bus stop closure will be in place until the completion of the UW Chemistry Building addition project in 2021.
To keep various construction areas clear and pedestrians safe, the western crosswalks of University Avenue at N. Mills Street and at N. Charter Street remain closed. The west Charter/University crosswalk is set to reopen in mid-January 2019.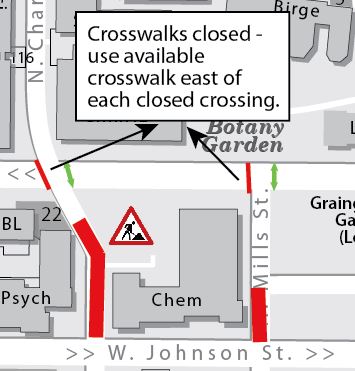 N. Mills Street
The closed section of N. Mills Street will reopen to through southbound traffic on Wednesday, Dec. 5. The southbound Metro Transit bus stop (#0256) will reopen and Routes 4 and 13 will resume their regular routes. Route 27 (A.M.) and 44 (A.M.) remain on detour. Transit detour information is available on the Madison Metro website.
The east side N. Mills Street sidewalk is open, and the west sidewalk is closed. Access to the Chemistry Building at the building's northeast corner is closed, but open on the south.
Two-way traffic will resume in mid-January.
N. Charter Street
The closed section of N. Charter Street will reopen to southbound traffic in early January. Metro Transit bus routes will resume for stop #0490 at that time. The northbound lane will remain closed through Winter 2018-19. Both lanes will close in Spring 2019 for a short time as the street is repaved.
The east Charter Street sidewalk is closed; the west sidewalk is open.
A map of all construction projects and detours can be found on the campus parking maps page. Project dates may change due to weather conditions or other factors.