We may have already seen snow a few times this fall, but UW-Madison campus winter parking rules are in officially in effect November 15, 2019 through March 15, 2020. Rules are enforced 2-6 a.m. every day, regardless of weather conditions.
Winter parking rules
No parking along Observatory Drive or Linden Drive. This includes the street stalls of Lot 26, 40 and 59.
There is restricted parking in lots 16, 34, 40, 50, 51, and 137. Please park in designated rows (marked by the "Shoveling Bucky" signs).
Top levels of ramps may be blocked off to better facilitate snow removal.
A map of restricted winter parking areas and other winter tips can be found on the winter procedures page.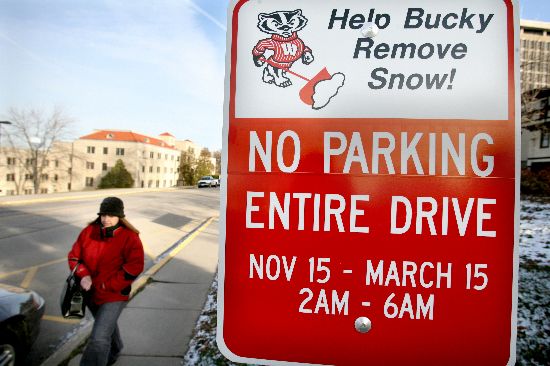 Snow Action Days
In the event of a University declared Snow Action Day, all normal winter parking rules are in effect, and no parking is allowed on the top level of UW parking ramps. Vehicles must be moved prior to 7 a.m. to avoid citation and relocation.
Resources