UW-Madison Transportation Services has earned status as an Accredited Parking Organization (APO) with Distinction. The APO program, operated by the International Parking & Mobility Institute (IPMI), certifies parking organizations that meet rigorous standards for responsible parking management.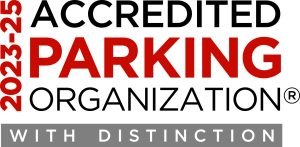 UW-Madison is one of eleven universities in the nation with an APO-designated parking operation, and one of only six universities to receive the highest designation "with distinction."
"An accredited parking facility or operation assures customers that the parking organization adheres to a strict code of ethics and meets national and international standards for professionalism, accountability, responsibility, and performance," said IPMI CEO Shawn Conrad. "These organizations represent the top tier of service and performance in the parking and mobility sector and set the bar for all others to follow."
Transportation Services met parking industry standards in areas such as customer service, sustainability, access management for campus parking facilities, safety, data security, risk management, and more. Initiatives supporting sustainability efforts and customer service for the UW-Madison campus community, such as electric vehicle charging stations, annual customer surveys, and campus bus service also helped Transportation Services earn the highest level of distinction.
Working with third-party reviewers, Transportation Services performed an in-depth assessment of the campus parking and transportation program and showed evidence of accomplishment of over 100 criteria in 14 categories, plus additional criteria in each category to earn the APO with Distinction status.
"We are very proud of what Transportation Services has accomplished to become an Accredited Parking Organization," Patrick Kass, Assistant Vice Chancellor for Transportation Services said. "It is a testament to our resourcefulness, the hard work of our staff, and our commitment to being a good steward of the UW campus parking infrastructure."
"By nature, facilities work is performed behind the scenes. We are pleased that Transportation Services' APO status helps shine a light on the department's efforts to keep campus safe and accessible for our faculty, staff, students, and visitors," said Cindy Torstveit, Associate Vice Chancellor for UW-Madison Facilities Planning & Management.
Professional Recognition Award for Customer Service
IPMI also recognized Anne Bogan of UW-Madison Transportation Services with a 2022 Professional Recognition Award for Customer Service to commemorate her two decades of essential support for internal and external parking customers at UW Transportation Services.
Bogan serves as the executive assistant to the Transportation Services director's team and building manager for the WARF Building where Transportation Services is headquartered. Her career has been dedicated to helping campus community members and visitors navigate the parking system. She began her career at Transportation Services as a customer service representative, then supervised parking for special events – including Badger game day parking.
Moving into an administrative role, Bogan served on the first Equity, Inclusion and Diversity (EID) committee at Facilities Planning & Management. In 2020 she coordinated logistics for multiple COVID-19 rapid testing sites on campus. She also works on the annual Partners in Giving Campaign and Red Cross blood drives, with the latter growing in its reach and impact every year.
Anne's dedication to the department has been critical in ensuring UW Transportation Services advances its mission to serve and support the campus community," said Kass.
Anne's impact is not just limited to transportation.
"Anne is known as someone who is well organized and can be counted on to get things done." Margaret Tennessen, Deputy Associate Vice Chancellor for Facilities Planning & Management said. "As building manager for a 14-story campus facility with tenants from multiple campus divisions, Anne has developed a reputation for being customer-focused and reliable."
About UW Transportation Services
UW Transportation Services is a department within Facilities Planning and Management (FP&M) on the University of Wisconsin-Madison's campus. The department's mission is to provide innovative transportation solutions to serve and support UW Madison. Transportation Services is responsible for the coordination and administration of all transportation-related services for the UW campus community.
Transportation Services is also recognized as a Platinum-Level Bike Friendly University by the League of American Cyclists and a Best University for Commuters by Best Workplaces for Commuters.
About IPMI
The International Parking & Mobility Institute (IPMI) is the world's largest association of professionals in parking, transportation, and mobility. IPMI works to advance the parking and mobility profession through professional development, research and data collection, advocacy, and outreach. With experts from around the world in dozens of specialties, IPMI helps parking and transportation function efficiently.