The following construction projects will affect campus traffic patterns. All projects have the tentative start date of Monday, June 24. Project dates are subject to change due to weather or other factors.
Linden Drive storm drain replacement – Babcock Drive to Henry Mall
Linden Drive from Babcock Drive to Henry Mall will be closed to two-way traffic for a storm drain repair project. The project is expected to last two weeks. Westbound and eastbound traffic should take alternate routes, such as Observatory Drive between Babcock and Charter Street. Sidewalks in both directions will remain open.
Metro Transit bus routes who use this travel corridor–including the campus Route 80–will detour for this project. Metro Transit detour information
Lot 30 will be inaccessible during this project and will remain closed for the summer while additional work takes place in the lot. Permit holders will relocate to Lot 36 (Observatory Drive Ramp) until all work is complete.
Dayton Street utility project update
Edit 6/28/19 – Work delayed, to start July 1.
Work continues on the Dayton Street utility replacement project. Starting June 24, the westbound lanes from the Sellery loading dock area up to the Dayton Street/N. Park Street intersection will be closed for approximately six weeks. Westbound traffic can detour using Lake or Frances Streets to University Avenue.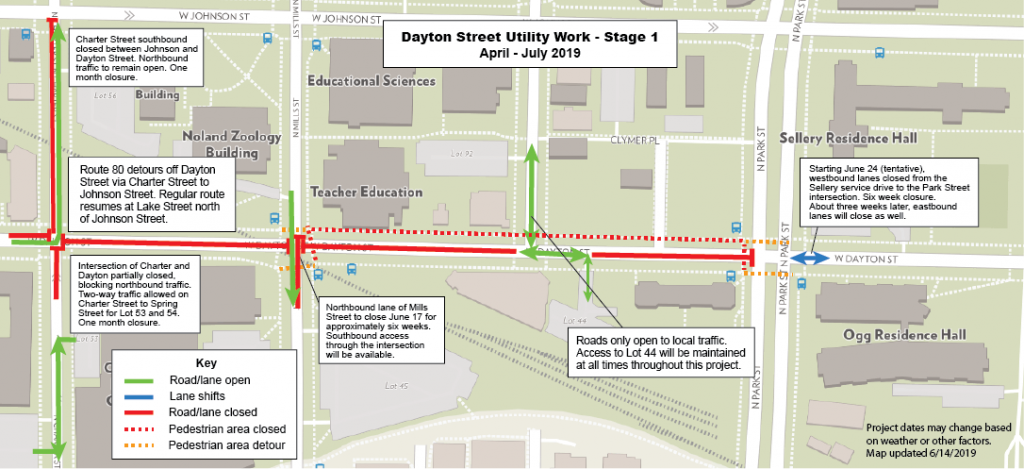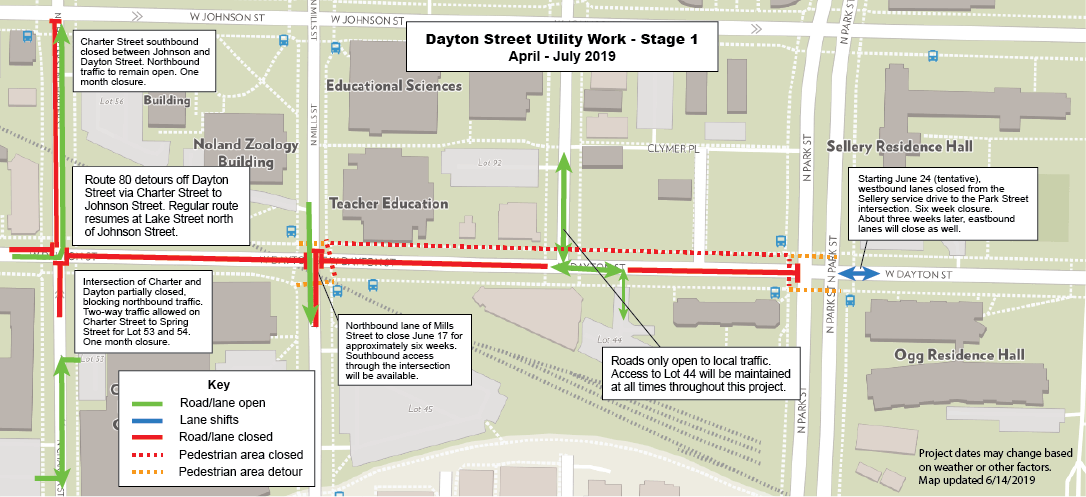 Click on the above image to enlarge or click here to view the Dayton Street construction map.
Approximately three weeks later (around July 15), the eastbound lanes in the same area will also close. At that time, two-way traffic will be unavailable.
Northbound and southbound traffic will be maintained through the Dayton Street/N. Park Street intersection.
More information on transportation impacts due to the Dayton Street project
Limnology lift station project
Lot 8 and the drive to the Limnology building will close for a lift station repair project. The area will be closed for approximately two months. Vehicles will not be able to access the area. Permit holders will relocate to Lot 34 (east of Tripp Hall) once construction begins. Bicyclists should walk their bikes along the open pedestrian path near Limnology. If headed eastbound, bikes can detour off the Lakeshore Path by the Porter Boathouse/Babcock Drive.
Related resources