Construction work on Sellery Hall and a steam utility project south of Johnson Street will impact traffic lanes and heavily utilized pedestrian-bicyclist routes—including East Campus Mall—during the 2021-22 fall semester.
The eastern lane and sidewalk of Park Street between Dayton Street and Johnson Street is currently closed for work on Sellery Hall. The closure is expected to last into September 2021.
These East Campus Mall area closures start August 16 and are expected to continue into mid-winter/early 2022, depending on weather conditions:
Section of East Campus Mall between Johnson Street and Dayton Street. Pedestrians and bicyclists will need to cross Johnson Street near the intersections of Park Street or Lake Street, as the mid-block East Campus Mall crossing will be unavailable.
The southern lane of Johnson Street closed from the Johnson & Park bus stop (#0455) up to the intersection with Lake Street.
The east-west sidewalk south of Johnson Street closed from just west of East Campus Mall until Lake Street.
Detour signage will be on site to direct pedestrians and bicyclists. Please stay on marked detour paths.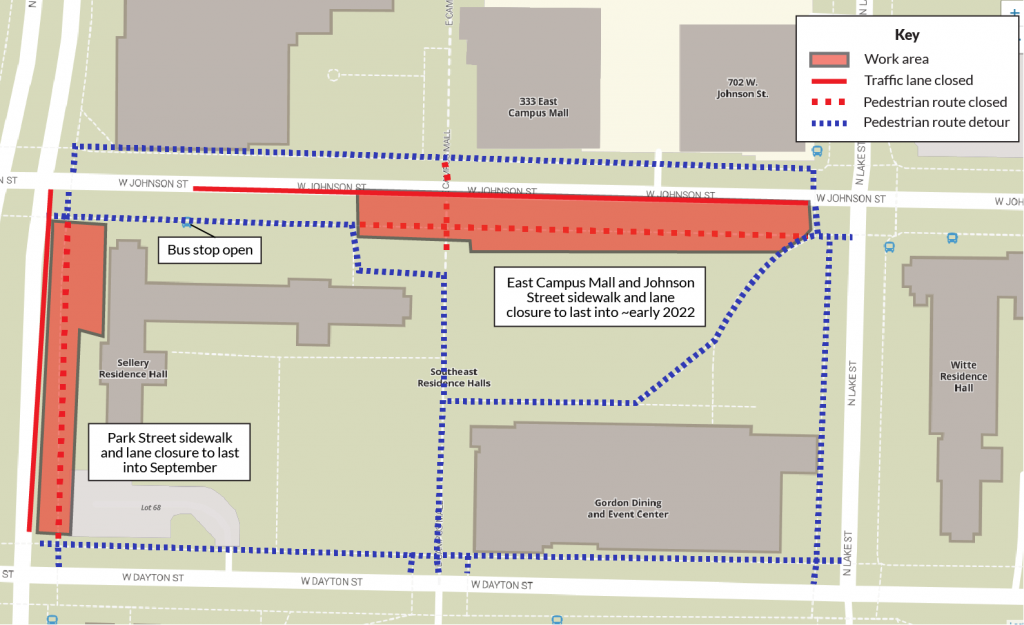 Note: project dates are subject to change due to weather or other factors.
Other construction impacts in late summer and early fall 2021 are summarized in this Road closures and detours – Summer 2021 news post.
Related resources