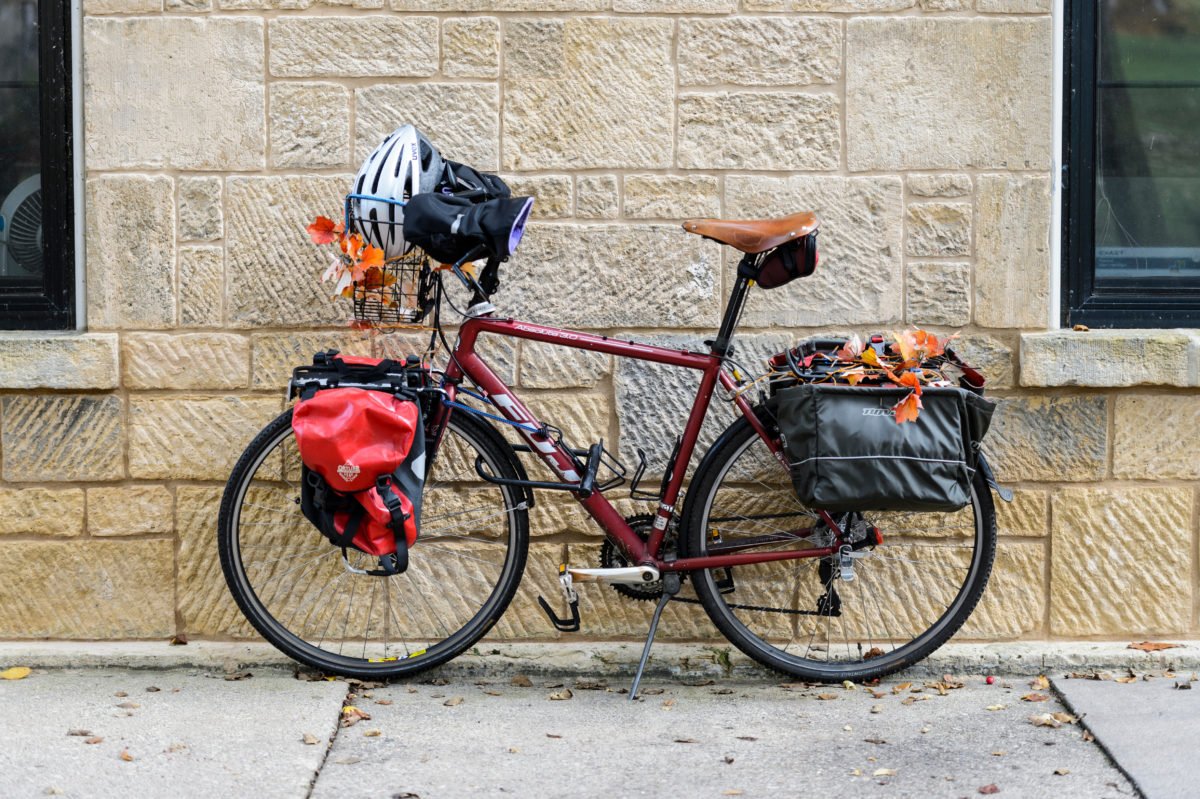 UW-Madison has been recognized for employee commuting by the Climate Champions program, operated by the Dane County Office of Energy and Climate. With this recognition, UW-Madison joins Dane County government agencies, schools, businesses, and nonprofits working on projects to advance sustainability practices on a local level.
Approximately 40% of UW-Madison employees use active transportation modes to get to and from campus most or all of the time, according to a recent campus survey on multimodal commutes. Active transportation modes include buses, bikes, walking, scooters, carpools, and vanpools, while multimodal commutes combine different modes of transportation. Active and multimodal commutes significantly reduce the number of single-occupancy vehicle trips to campus.
The Dane County Climate Champions program recognizes sustainability practices in 10 categories, with up to four stars per category. UW-Madison received two stars for employee commuting.
"Reducing the number of single-occupancy vehicles on campus is a top priority for Transportation Services, and we are pleased to offer programs to make it easier and more appealing to drive to campus less often," said Patrick Kass, Assistant Vice Chancellor of UW Transportation Services.
UW Transportation Services supports UW-Madison's population of active commuters with Commuter Solutions programs designed to reduce barriers to choosing an active commute, such as cost of use, safety concerns, and infrastructure constraints. Initiatives like the employee bus pass and Emergency Ride Home programs reduce the costs of an active commute. Other services like personalized route planning and classes at the University Bike Resource Center offer knowledge and resources to make active commuting a more viable option. The Climate Champions achievement is one of several recent accreditations UW-Madison has earned that consider employee commute patterns as an important factor in the university's goal to build and operate a sustainable campus.
UW-Madison is also recognized as one of the nation's Best Universities for Commuters and a Platinum Bike-Friendly University. The university's support for active and multimodal commuting also contributed to its silver rating by STARS, an assessment tool that evaluates the full spectrum of campus sustainability initiatives. Most recently, Transportation Services was also recognized as a distinguished Accredited Parking Organization, which looks at sustainability as part of an overall system of responsible parking management.
"Active commuting has such a positive impact on our campus climate," said Cindy Torstveit, Associate Vice Chancellor of Facilities Planning & Management. "We at FP&M are pleased to know that the university's commuter programs and ongoing improvements to the multimodal transportation infrastructure are lining up with Dane County's climate goals."
The Climate Champions recognition and other recent achievements serve as a report card, identifying areas where the university is meeting sustainability goals, as well as areas where more development is needed.
"Research developed at UW-Madison informs our knowledge about the intersections between fossil fuel emissions, public health and education," said Dr. Missy Nergard, Director of the Office of Sustainability.  "Operationalizing that knowledge through our campus practices empowers our community with alternate modes of transportation and drives further inquiry. It's an inspiring application of a circular knowledge economy."
For Transportation Services, this means pursuing initiatives to further reduce barriers to active commuting. One initiative, scheduled to be installed this fall, is the addition of real-time, solar-powered bus trackers at campus bus shelters. The solar-powered bus shelter project, the result of a campus collaboration between the Office of Sustainability, Transportation Services and two student-led organizations, will improve the campus commute experience while reducing reliance on the electrical grid.
UW Madison also received recognition from the Dane County Climate Champions in the Building Energy Use category for Signe Skott Cooper Hall, home of the UW School of Nursing. Cooper Hall is approximately 25% more energy efficient than similar buildings, and uses centrally supplied steam and chilled water to heat and cool the building.