The legal holiday of Thanksgiving on Thursday, Nov. 25 and the unofficial "holiday" on Friday, Nov. 26 will cause a reduction in services for Madison Metro Transit and office closures across campus (including Transportation Services offices).
UW Transportation Services will waive some campus parking restrictions on Friday, Nov. 26 to accommodate the bus riders unable to easily travel to campus during Metro's reduced service. (Note: Parking permits are not enforced on UW legal holidays, such as Thanksgiving.)
Waived parking restrictions for November 26
Most surface parking lots will not require a UW permit to park in unsigned permit parking stalls. Do not park in reserved (signed) stalls. Parking will be available on a first-come, first-served basis. If no parking stalls are available, proceed to the next available location.
UW park and ride locations (Lot 202 and 203) will be open and shuttle service will operate on Friday, Nov. 26.
Exceptions to waived parking restrictions on November 26
Lot 74 and Lot 82 by UW Hospital will require lot-specific permits on November 26.
Some surface lots will be staffed by Transportation Services for UW Badger athletics events for part of the day.
UW Disabled stalls will require either a UW Disabled permit or State DOT Disabled permit/plate.
Restricted parking areas, such as access aisles, fire lanes, and no parking zones, are always enforced.
All parking ramps and garages will require a permit or payment, as per the typical weekday schedule:

Vehicles with valid UW permits for gated lots can enter and exit as usual.
Flex permits must be in paid status with ParkMobile if used in a garage or ramp.
Paid visitor parking is available by pulling a ticket and paying upon exit.
Visiting motorcycles parked in designated gated lot motorcycle areas must be in paid status with ParkMobile.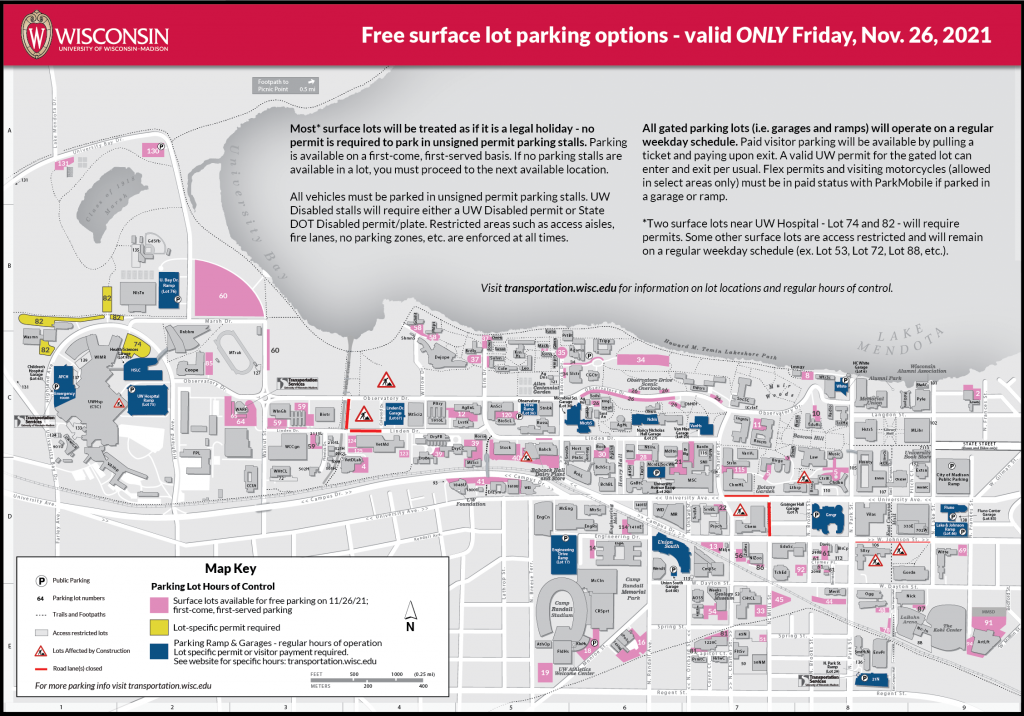 [Click on the above image to enlarge November 26 parking options map.]
Regular parking enforcement resumes on Saturday, Nov. 27.
Bus and shuttle service
Accessible circulator shuttle
There is no accessible circulator shuttle service on Thursday, Nov. 25 or Friday, Nov. 26.
Campus bus routes (80, 81, 82, 84)
Campus bus routes 80 and 82 will not provide late night service on Wednesday, November 24.
Campus bus routes 80, 81, 82, 84 will not operate on Thursday, November 25.
Campus bus routes 80 and 84 operate on a recess schedule on Friday, Nov. 26 and Saturday, Nov. 27.
UW campus bus service is provided by Madison Metro. Check the UW campus bus service calendar on the Metro Transit website.
Madison Metro bus routes
Madison Metro buses operate on a holiday schedule on Thursday, Nov. 25 and a Saturday schedule on Friday, Nov. 26.
All standing paratransit rides on Thursday and Friday are cancelled. Paratransit passengers must schedule casual rides to travel on this date.
Check Metro holiday bus impacts on the Metro Transit website.
Regular Metro service hours resume on Monday, Nov. 29.
—
Direct campus parking questions to UW Transportation Services customer service at (608) 263-6667 or customerservice@fpm.wisc.edu.
Visit covidresponse.wisc.edu for the most up-to-date campus COVID-19 response information and resources.