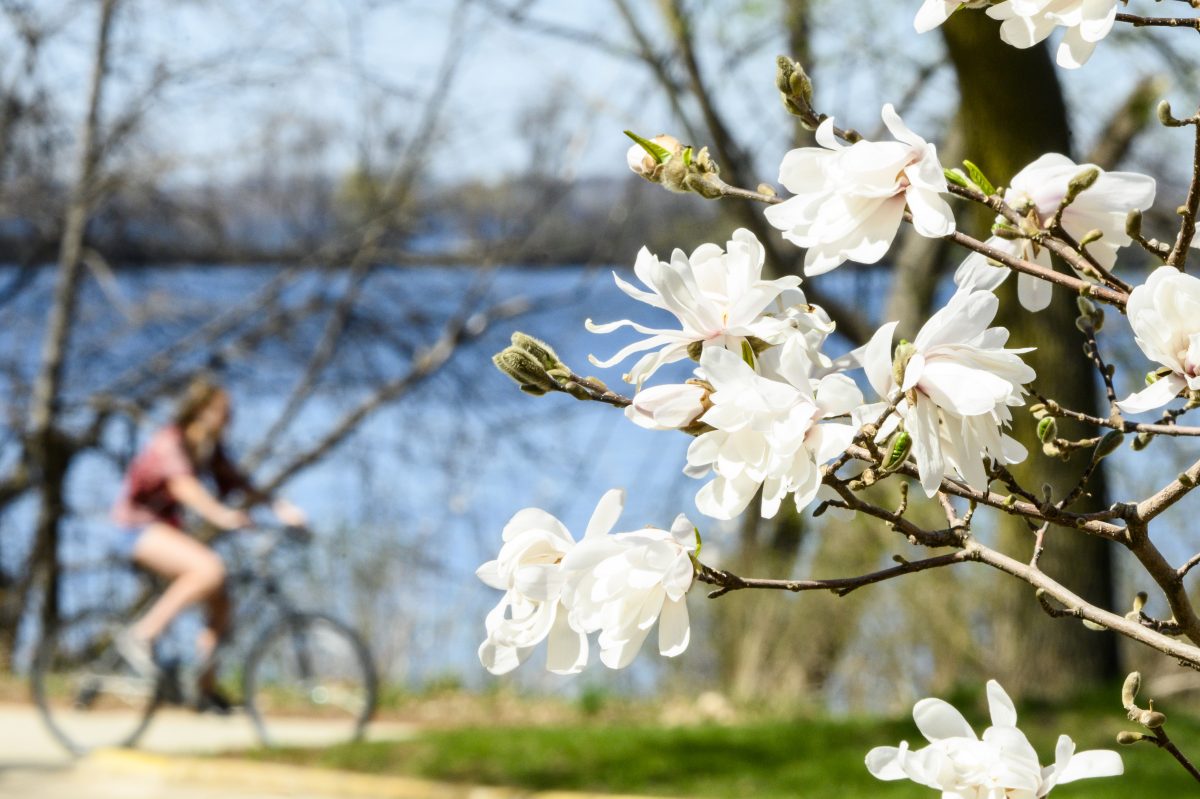 The snow has melted, warm weather has arrived, and it's Earth Week. It's the perfect time to explore environmentally friendly ways to get to campus. Did you know that UW employees and students who ride the bus, bike, and/or carpool can receive free or discounted commuter benefits? Keep reading to learn how!
Bicycle resources
On our 2020 commute modes survey, 16% of students and 13% of faculty and staff reported commuting primarily by bike in good weather. That's about 7,000 students and 4,000 faculty and staff! Approximately 16,000 bike racks allow cyclists to park for free near most campus buildings, making it easy to travel around on campus throughout the day. Here are some more campus resources for you and your bicycle:
BCycle membership discounts
BCycle, a bikesharing service with a large fleet of electric bikes and over a dozen stations on the UW campus, is a convenient option for anyone without access to their own bike. Madison BCycle partners with Transportation Services to offer reduced membership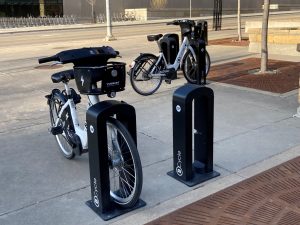 prices for UW students, employees and affiliates. For more information on the discounted membership, visit our bikesharing webpage or the BCycle website.
Air-and-repair stations
Pump up your tires or perform quick maintenance at one of 12 air-and-repair stations located across campus. The air-and-repair stations are free for anyone to use. Find a station near you on the air and repair station map (PDF).
University Bicycle Resource Center
For more in-depth maintenance needs, the UBRC is tucked away on the ground level of the Helen C. White parking garage (Lot 6). Open to the campus community and visitors, the UBRC provides a do-it-yourself space for bike tune-ups and free bike classes. Also check out this video by University Communications to learn more about the UBRC's history:
Calling all carpoolers!
If you already carpool to campus, or if you're carpool curious, Transportation Services runs a carpool program with benefits for members.
Two or more employees who drive together most of the time can register a carpool, and three or more can apply for a UW carpool permit. Carpool permit applications get top priority during the annual permit application process. Members also receive six daily parking passes to use on days when they can't join the carpool. Learn about the benefits of the UW-Madison carpool program and how to apply.
If you're looking for carpool members, RoundTrip (operated by Greater Madison MPO) is one way for UW employees to locate other carpoolers. Those with a valid @wisc.edu email address,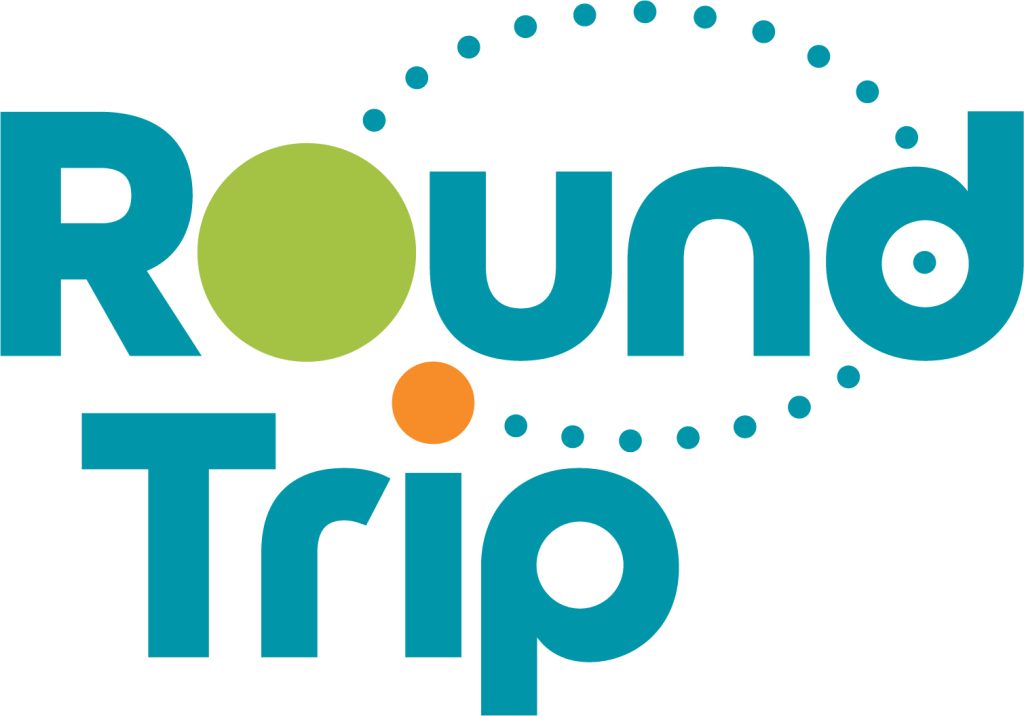 including sub-domains, may choose to join the private UW-Madison RoundTrip network. (They may also join the main Dane County network.) Click the button below to register for the private UW-Madison network:
Register for the UW-Madison RoundTrip Network
Metro Transit buses serve the City of Madison with multiple routes running through or near campus. Paratransit service is also available for people with disabilities (registration required).
The city's system of bus routes is completely changing on June 11. Many people who ride the bus will experience changes in their usual bus route and stop locations in the new system. Faculty, staff, students, and visitors are encouraged to check route planning resources at mymetrobus.com, such as:
Trip planning with Google Maps. (Click the "Transit" button in the top menu and then any "Directions" icon to input trip information. Select the date and time for June 11 or after.)
Trip planning with the Transit App (Click "Where to?" and input trip information. Then select "Leave now" and set the date and time for June 11 or after.)
Complete system map (PDF download)
Individual route maps, including text descriptions
Project planners designed the new transit system to increase the frequency of buses, decrease travel times, and improve the overall experience of riding the bus. When the new system launches, commuting by bus may become easier and more accessible for some UW community members. Learn more about the employee bus pass program.
UW employees can purchase low-cost bus passes from UW Transportation Services. Bus passes for the 2022-23 year are prorated and available for purchase with NetID login credentials at the eBusiness purchasing portal. UW-affiliated employees obtain bus passes from their employers.
UW-Madison students may obtain a student bus pass through ASM.
Free custom route planning
We understand =no two commutes are alike, and everyone's unique circumstances affect how they travel. Transportation Services has many more commute ideas and benefits in addition to those listed above. For more questions about active and multimodal commutes to campus, contact Transportation Services tdm@fpm.wisc.edu or complete a Custom Route Planning form.